Jan. 01 2022
Happy New Year all! The main trails have been plowed from all the new snow we recieved a few days age!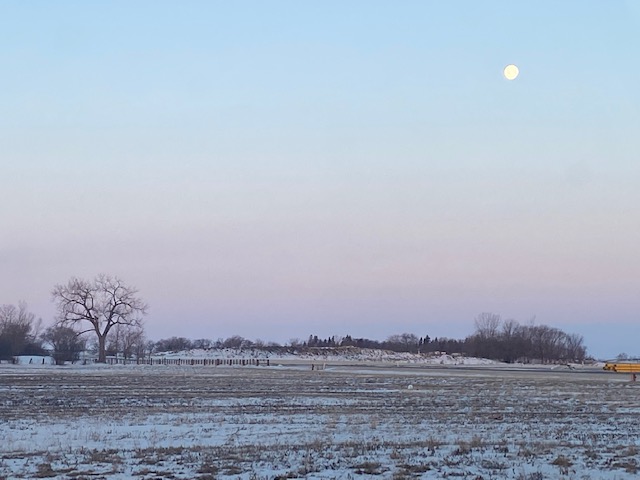 Jan. 08 2022
Well we needed the snow for sure. The cold will continue for the next couple of days!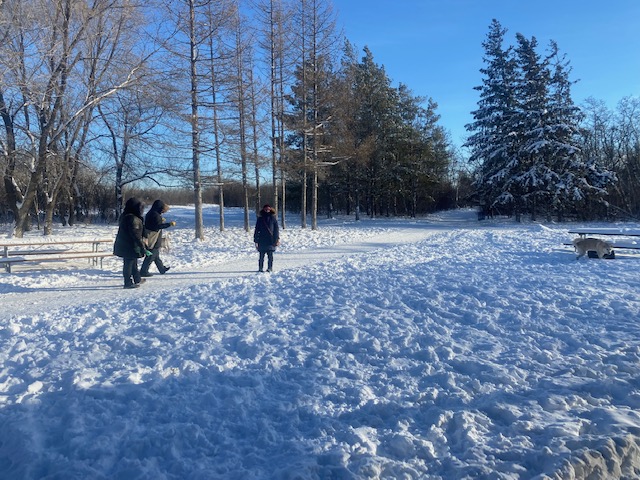 Jan. 11 2022
What a difference a day makes -7C! The Golf Course trail is drifted in a bit over night.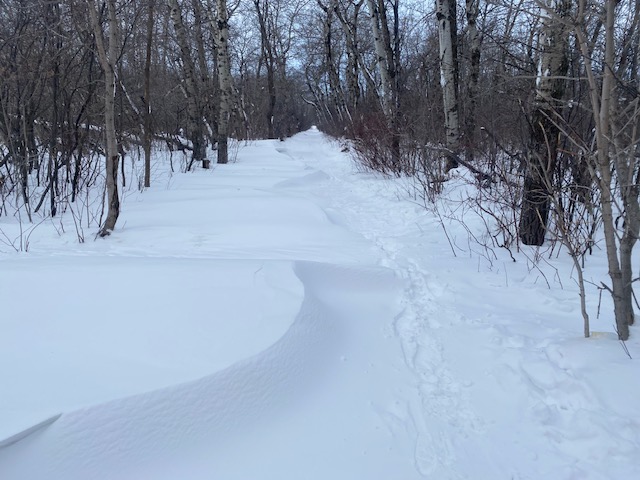 Jan. 22 2022
What a lousy bit of weather of late. Cold, Snow, Wind , repeat! Hopefully we will get over this hump soon. The city cleaned the trails and then they were filled in again.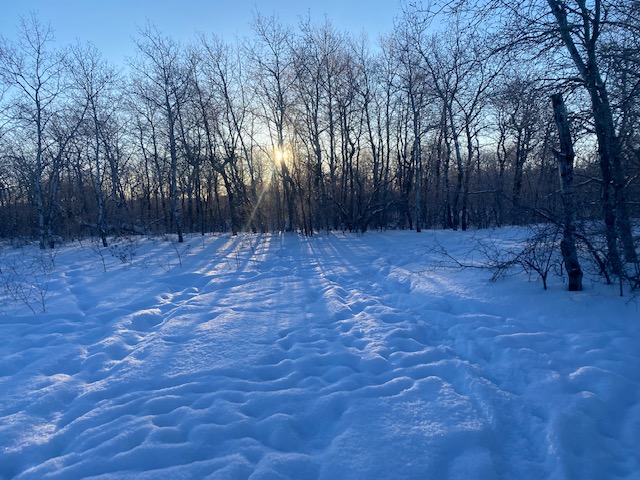 Jan. 31 2022
The calm before the storm!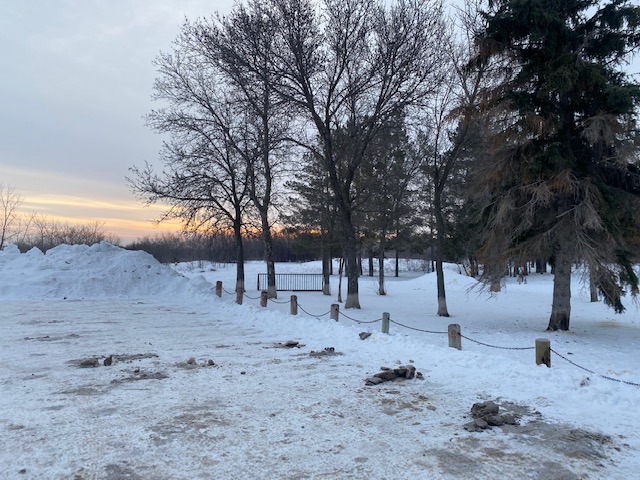 Feb. 01 2022
Blizzard conditions. Stay safe.
Feb. 09 20222
Mixed bag of weather. The trails have been cleared but the golf course trail has blown in again.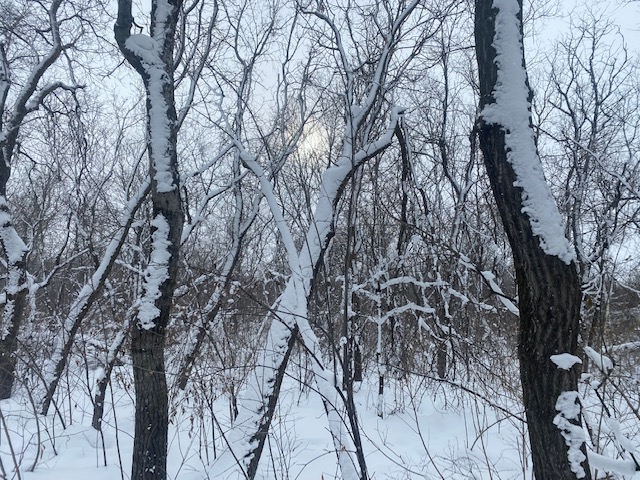 Feb. 16 2022
That is a nasty cold wind. The trails are blown in a bit. Dress warm it's going to get cold tonight!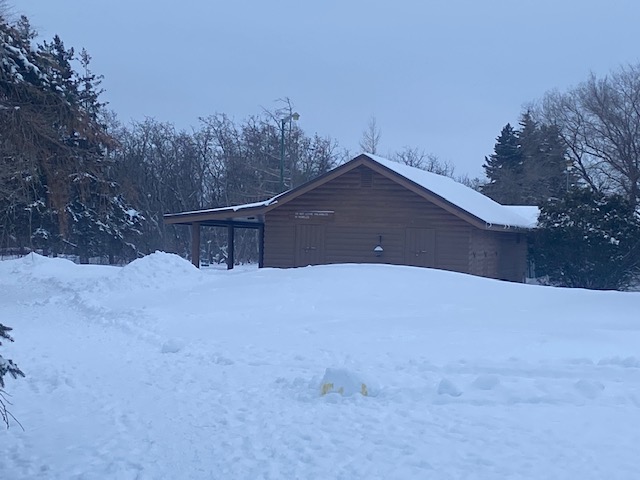 Feb. 27 2022 Hopefully we are done with the -30's. The trails are not in bad shape at all considering.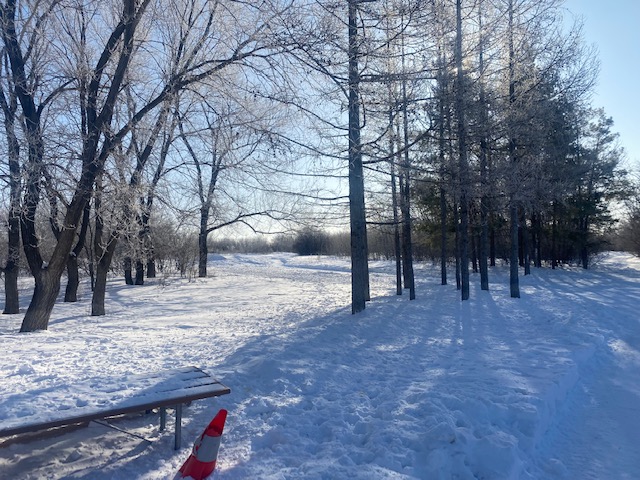 Mar. 04 2022
The Trails are matted down nicely. There is a Bald Eagle that seems to enjoy the large Cottonwood tree as a perch.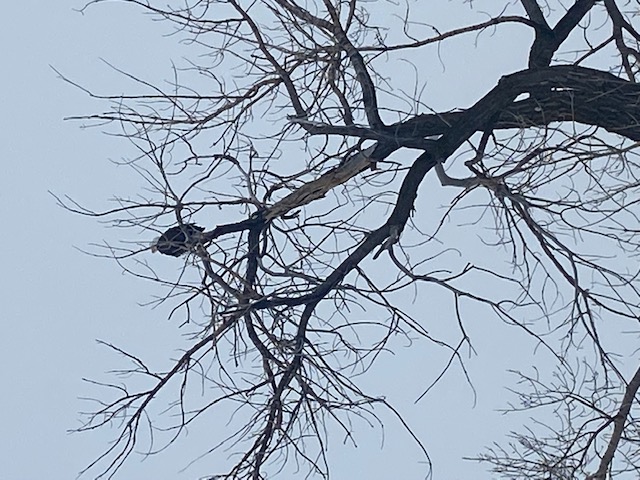 Mar. 14 2022
The Golf Course trail has blown in !
March 22 2022
The trials are getting pretty soft. Makes for harding walking.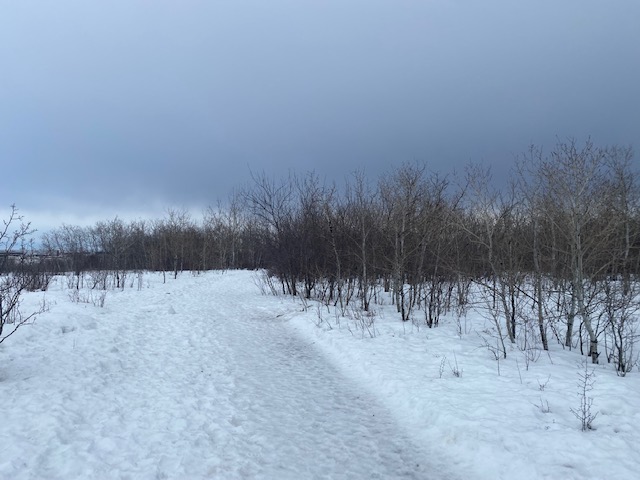 Apr. 02 2022
The trails are so icy please becareful walking. The Big field is starting to open up.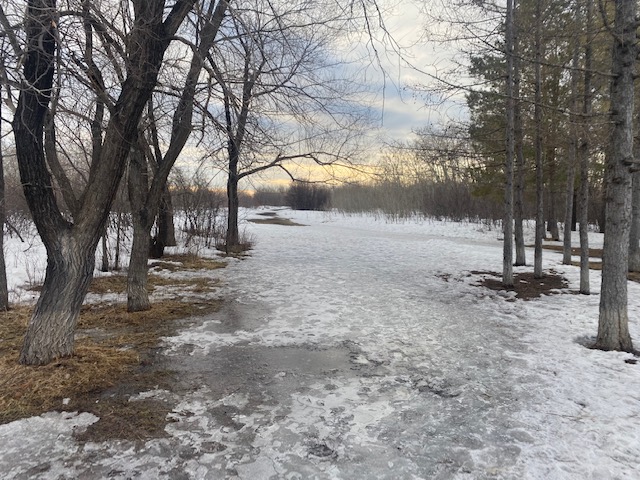 April 13 2022 Blizzard
The weather is turning nasty with a blizzard warning out. Could be a record breaker! Darn, everything was just starting to clear off.
April 18 2022
I have had enough of this. More is on the way this week end! The trails are matted down nicely making walking not to bad.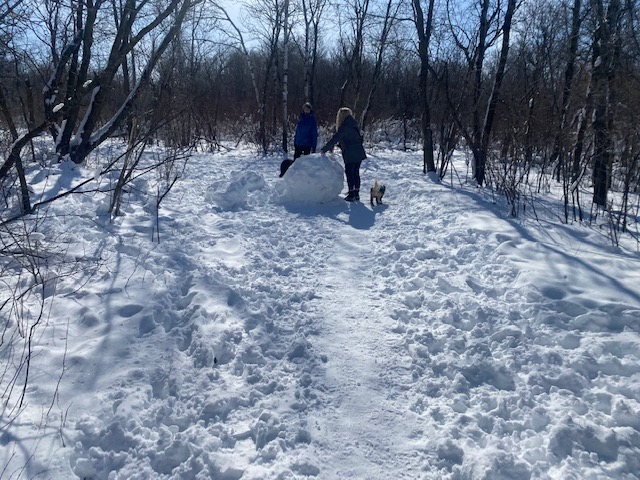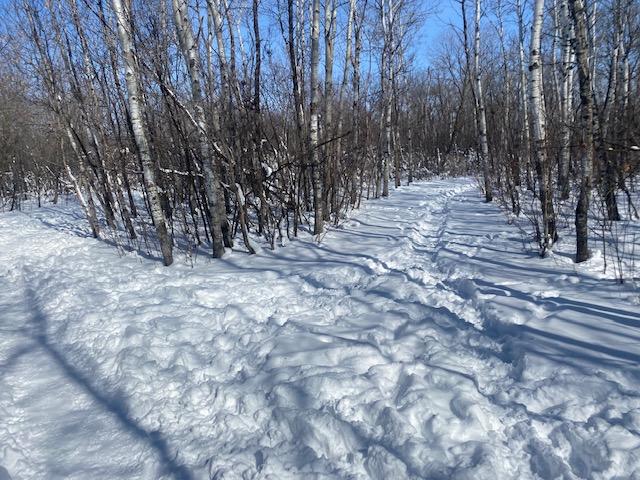 Apr. 19 2022
Could be rain, could be snow, don't ask me, I don't know!
Trails are matted down nicely.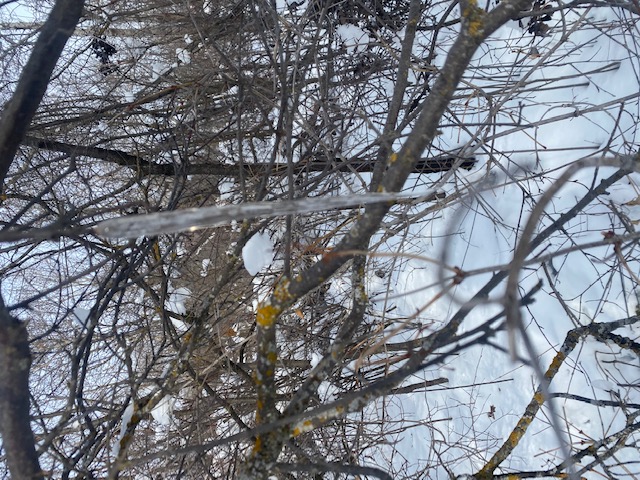 April 26 2022
The trails are not in bad shape at all after all the bad weather we have had. Bring your boots though!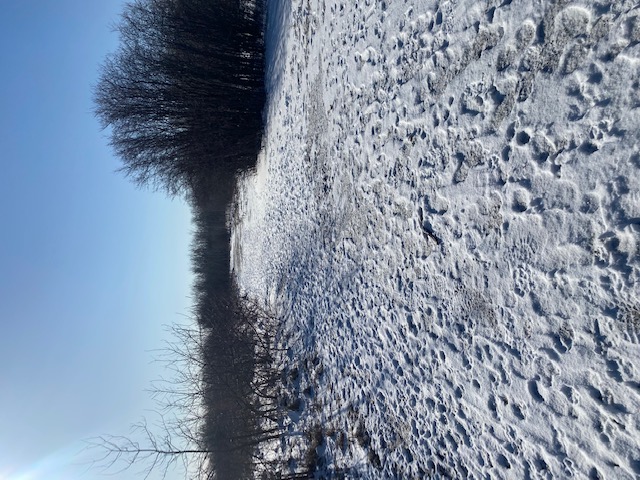 April 29 2022 Stay to the Big Field most trails are still under water.
Another wet weekend coming our way.
May 01 2022 East trail
Don't go down the east trail it is under water thanks to the truck surface lots building up so the water doesn't drain.
May 07 2022
What a fantastic day, even with a bit of wind. The trails are slowly drying up but it will be awhile.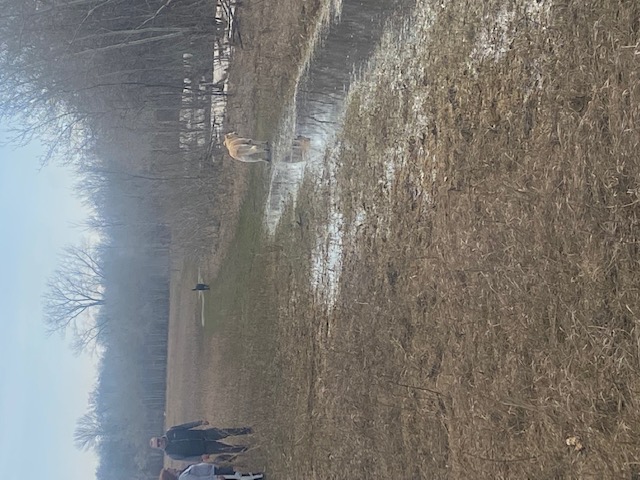 May 12 2022
The Crocuses are popping up! Trails are still a mess.
May 18 2022 Rain Rain
More rain and or snow!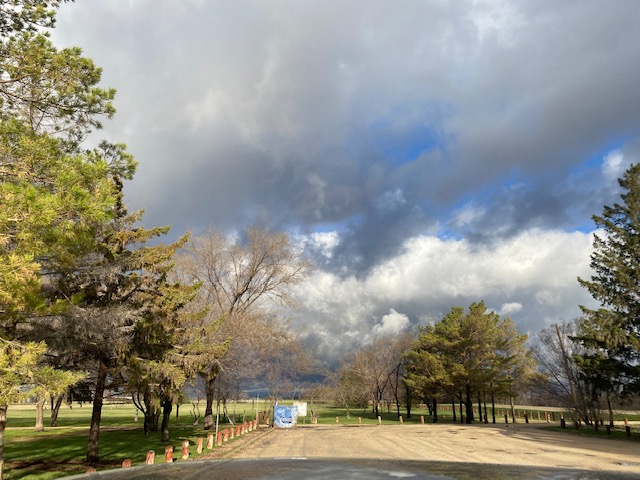 May 23 2022
Trails were chewed up by a tracked vehicle on Sunday.
The interior trails are still under water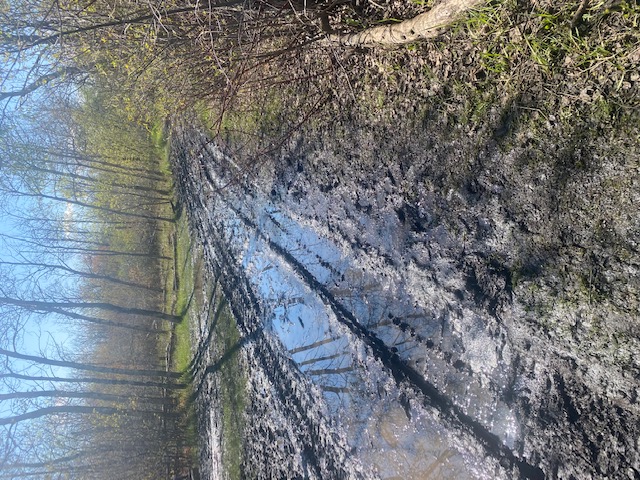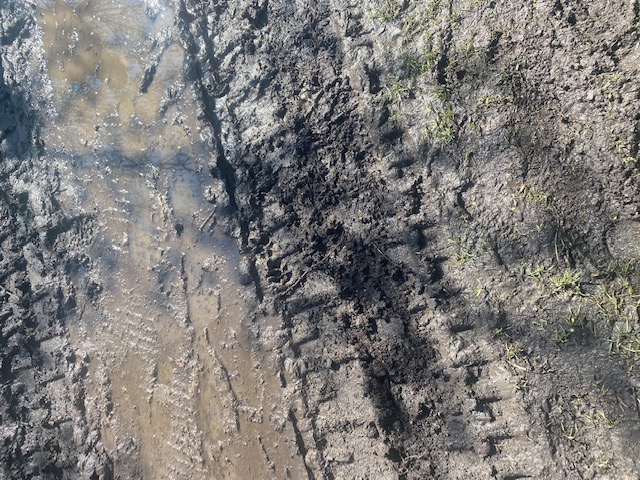 June 03 2022 Still under water in the interior trails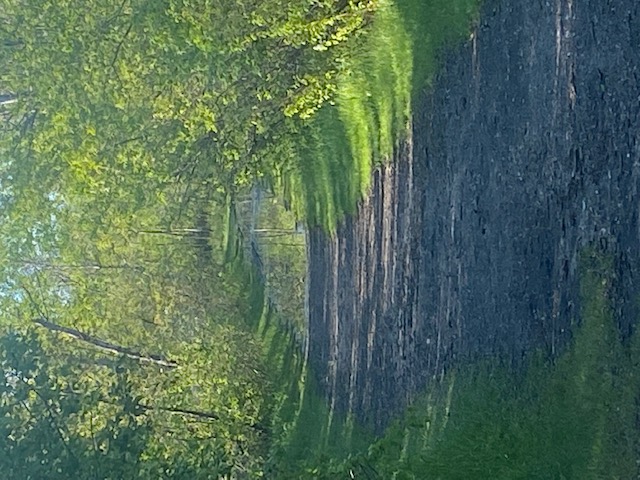 June 07 2022
Trails are getting better. With the fluffy's looks like a blanket of snow.
The inside trails are still water logged.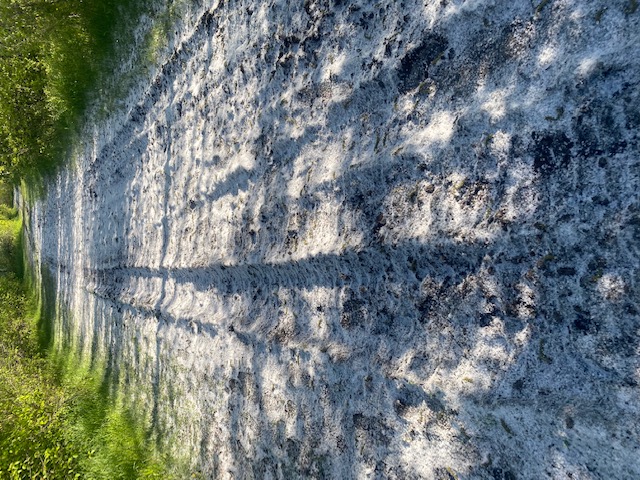 June 09 2022
Getting better.
Aspen trail is dried up. The inside trails are still water covered.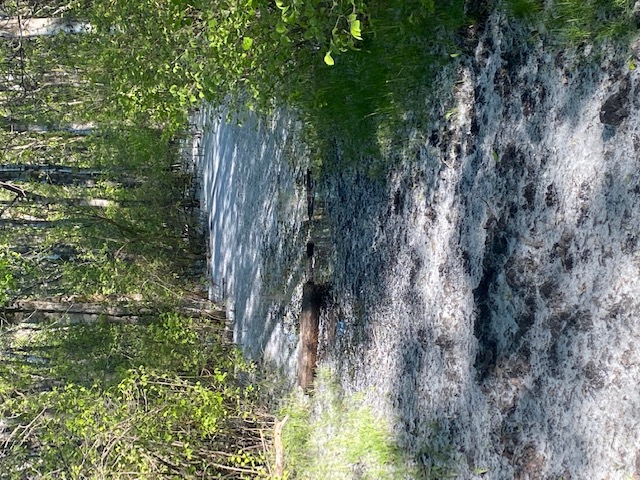 June 13 2022
With the rain we had all the trails are swampy again.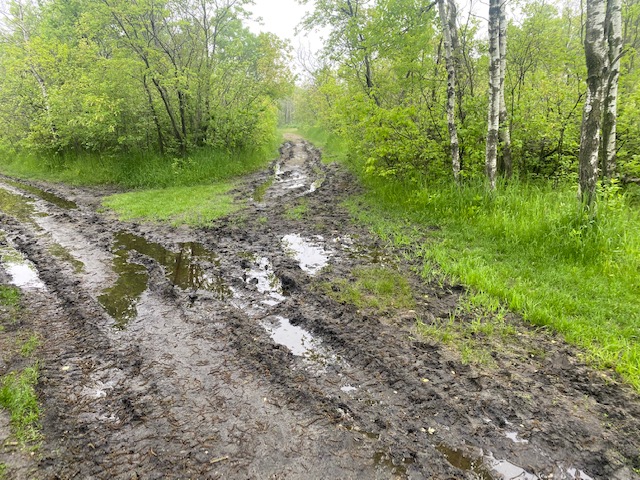 June 20 2022 Don't stop to long the mosquitoes will chew you up and spit you out! What an incredible hot weekend.
July 01 2022 Happy Canada Day stay away from the trails!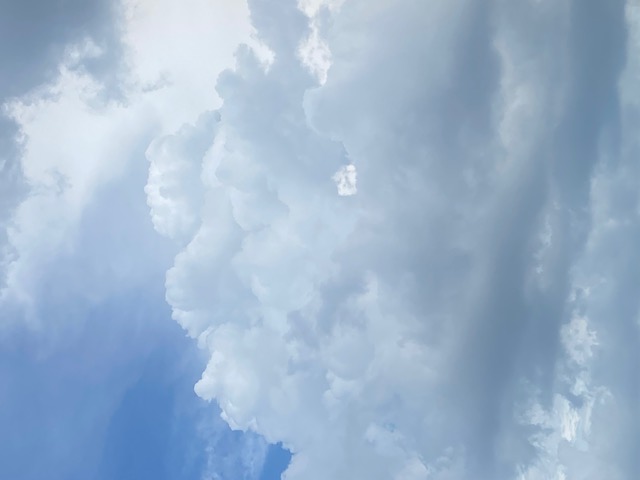 July 05 2022 Trails are getting better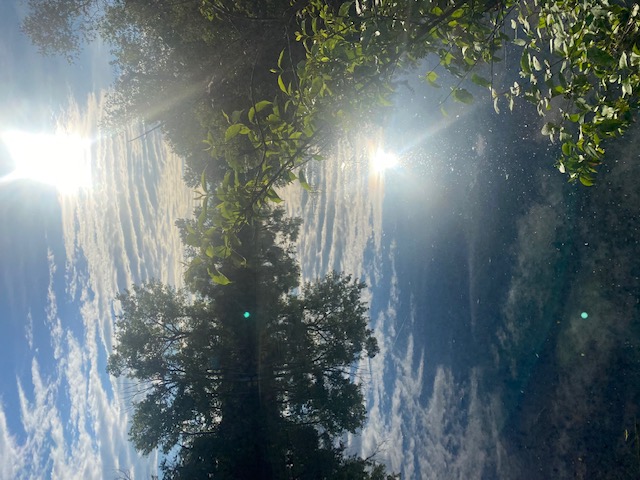 July 12 2022
Still haven't much to report because the trails are still undewater! Some of the gopher holes have been marked in the Big Field by Alex.
July 20 2022
Just when thinks were starting to dry up the monsoons hit!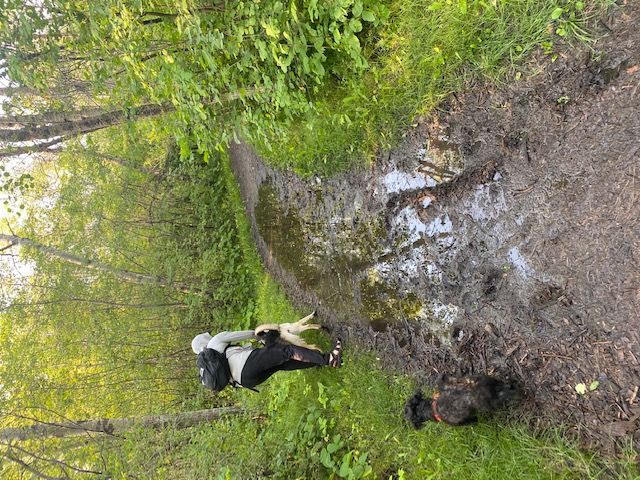 Aug. 06 2022
Well we had it down the trail without getting muddy today!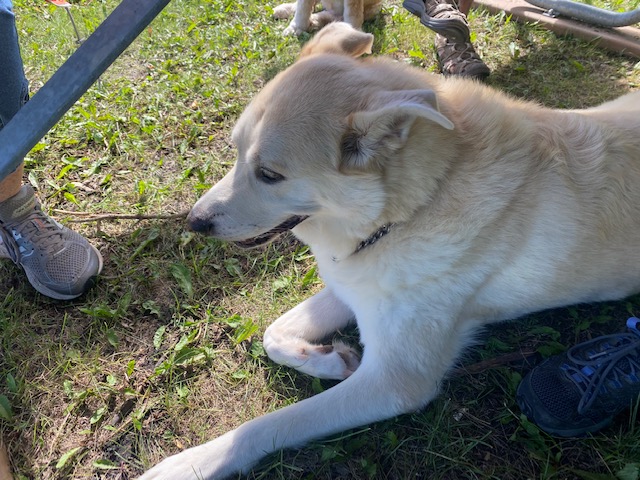 Aug. 13 2022
Most of the trails are walkable now except in the very middle. The bugs however are a different story! Don't stand around to long.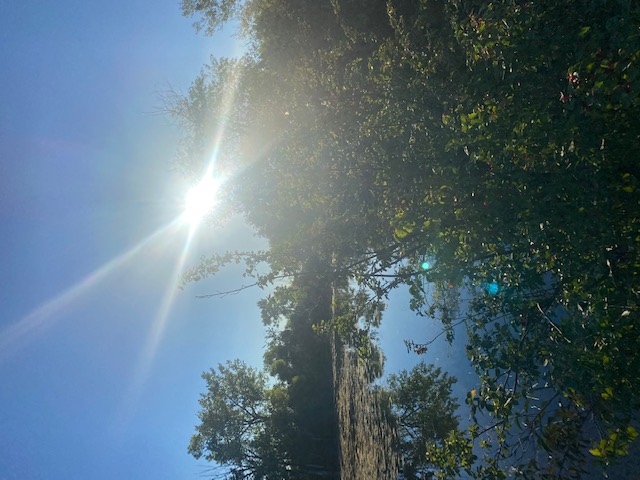 Aug. 15 2022 Bald Eagle watching all the goings on from the Cottonwood tree on Farmers Road
Aug. 16 2022
Fog is rolling in after yesterdays heavy rain.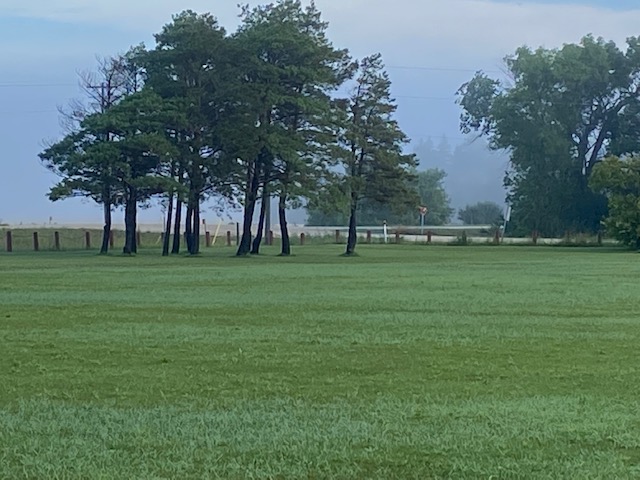 Aug. 28 2022 Golf Trail a bit muddy after the rains
Sept. 04 2022
Could you ask for a better day to be playing with pups! Trails are not in bad shape at. The centre is still water logged.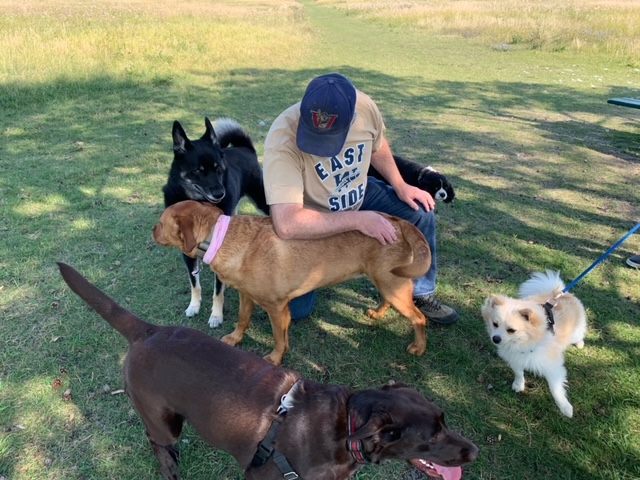 Sept. 10 2022 Lots of sun in the sky.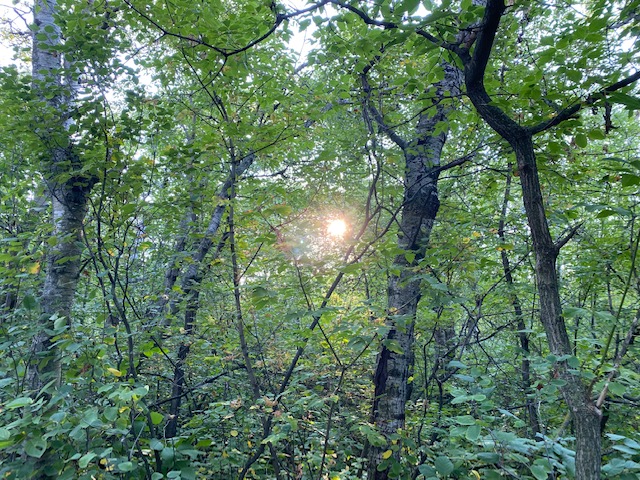 Sept. 15 2022 Clouds rolling in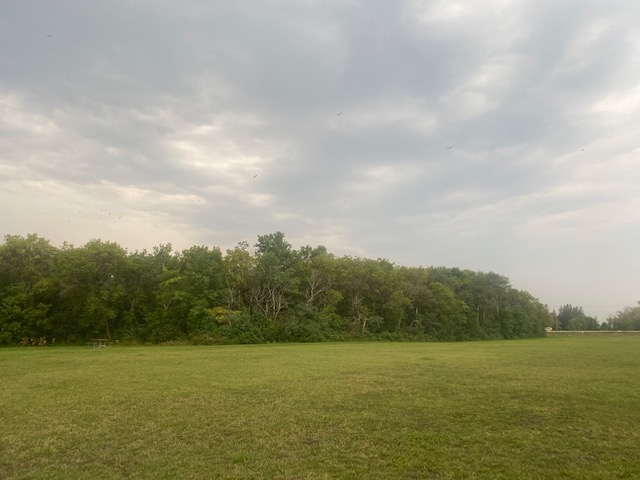 Sept. 21 2022 Cover up the plants there is a frost warning out for tonight!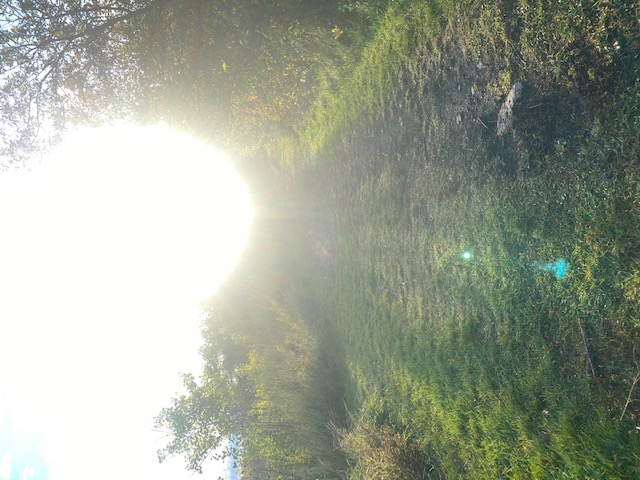 Oct. 02 2022
What a great day for a walk. The middle is still underwater.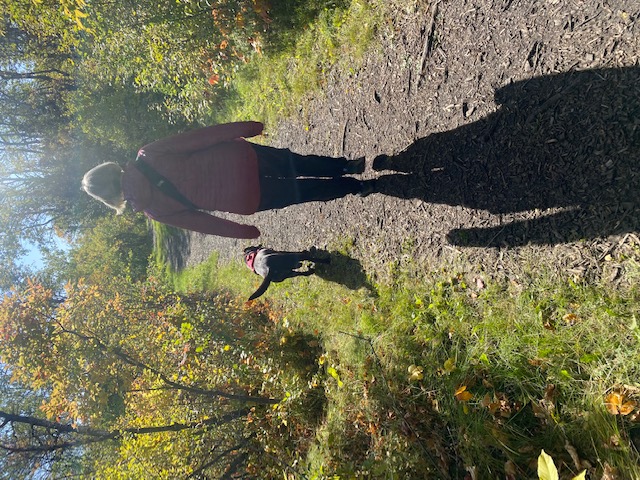 Oct. 09 2022
Our first snow fall of the year! It was a frosty walk
Thanksgiving rainy cold day
Oct. 25 2022
We are back after a bout of Kennel Cough
It was pouring rain when we started our walk, then stopped. The trails are muddy for sure.
Oct. 27 2022
The sun is out making for a nice walk today. The trails are still a bit muddy but getting better.
Dead Skunk
On the Golf Course Trail and Hawthorn trails has been placed into the garbage bin awaiting pick-up.
Nov. 10 2022
It's BACK!!!!!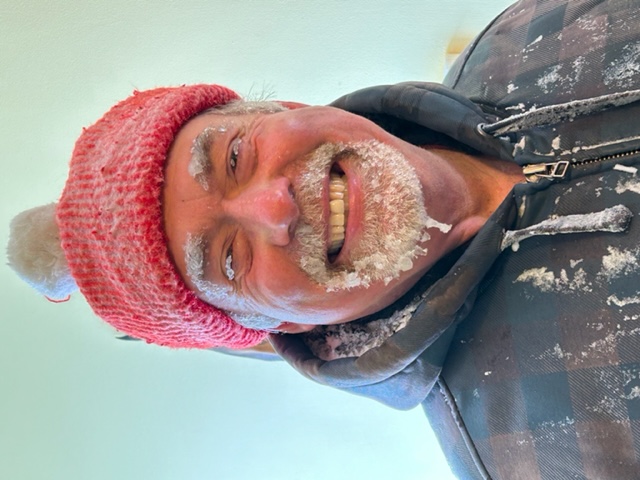 Ice
The Ice has been runnig of the clubhouse. Thank's Phil from placing the garbage bin over it. Please becareful everyone.
Dec. 04 2022
the snow is coming down today but the trails are fine for walking on.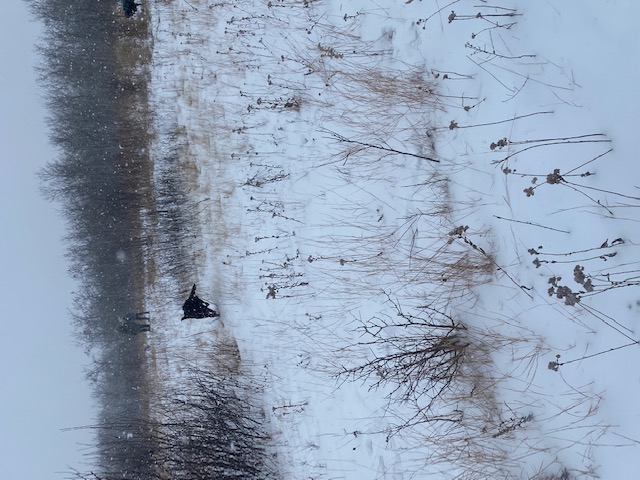 Parking lots
They were blown in pretty godd but the city has cleared them.
Thank you to the person that took the pictures.
Dec. 23 2022
Nasty cold ould there today.