Maps

Surveyed by S.L. Brabazon Dep. Sur. October 1871
Dominion Lands Office Ottawa 1 March 1872
Trail Maps
1926 Provincial Road map which shows Mount Royal
Low Resolution (on screen viewing) (PDF, 1.5 MB)
High Resolution (printable) (PDF, 18 MB)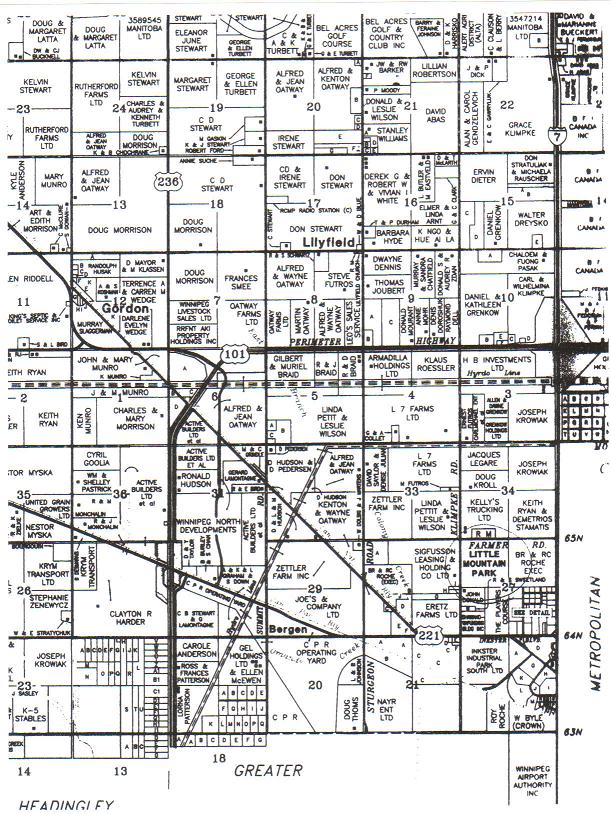 Soil Map Reconnaissance Survey of Winnipeg Area in Manitoba -1965 Reprint
Drawn and published by the Experimental Farms Service, Ottawa, 1954 from base maps compiled by the Manitoba Soil Survey, Winnipeg Manitoba. Reprinted without revisions by the Surveys and Mapping Branch, Department of Mines and Technical Surveys, 1965
Mq - Clay over till at 16-30 inches Phyto-Phytohydromorphic Marquette Clay to heavy loam
Oc. Hydromorphic Osborne Clay (Poorly Drained associates)
Rc - Phyto-Phytohydromorphic Red River Clay - (Well to intermediately drained associates)

East Side Development
The map shows the road development on the East side, where the brush has been cleared along the park edge.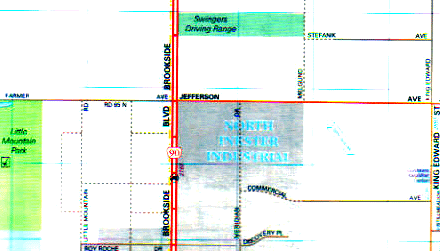 Source: Sherlock Publishing Ltd. (2005)
200-44 Princess Street, Winnipeg MB R3B 1K2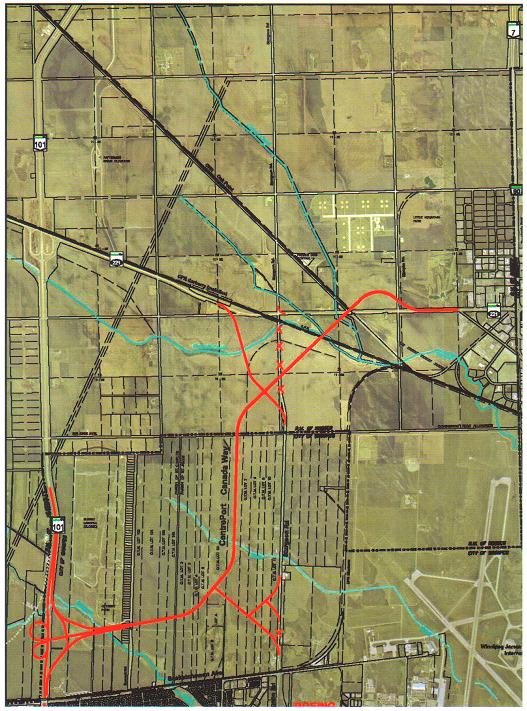 Centre-Port Highway project: Note the road cut through the park
Peguis Trail Extension
This is what the City, Province and CentrePort have planned for our park! Don't let this happen.
https://maps.google.com/maps/ms?msid=203442914539579318981.0004cdf15361921208a87&msa=0&ll=49.956687,-97.24514&spn=0.013916,0.0421

Last Updated on Sunday, 03 November 2013 18:32
According to the City of Winnipeg Plan 2020, the Chief Peguis Trail extension will link the north-east side of the city with the west side, just a few miles away from Little Mountain Park. Click here for a full map (City of Winnipeg)
Manitoba Highway 190
From Wikipedia, the free encyclopedia
Jump to: navigation, search
Provincial Trunk Highway 190 (PTH 190), also known as CentrePort Canada Way, is a provincial highway in the Canadian province of Manitoba. It is currently under construction and will eventually connect the Perimeter Highway with Winnipeg Route 25 (Inkster Boulevard) in the City of Winnipeg. The highway will include a traffic interchange at the junction with the Perimeter, as well as a grade separation over the CP Rail main line. The highway is intended to service the industrial lands west of James Armstrong Richardson Winnipeg International Airport which will be a part of theCentrePort Canada cargo hub.
PTH 190 is one of four three-digit urban expressway routes in the Manitoba highway network.
External Links [edit]
CentrePort Canada Way
Winnipeg Trails
This map is a graphical representation of the trail system in Winnipeg based on the Winnipeg Trails Association's Strategic Trails Plan and potential city development plans.
Details
Published: 10 April 2008
Last Updated: 10 February 2021
Hits: 23374